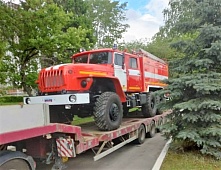 OBL-trans LLC, part of Oboronlogistics Group of companies, carried out the operational transportation of six units of fire equipment in the interests of the Ministry of Emergency Situations of Russia to the Republic of North Ossetia-Alania.
New fire tankers stored at Rosrezerv plants in various regions of Russia (Moscow, Orenburg, Stary Oskol, Kuguty) were delivered to Vladikavkaz in a short time (5 days). For their transportation, special vehicles designed for the transportation of oversized cargo (trawls) were involved. Specialists of OBL-trans accompanied the cargo and monitored the transportation of fire equipment along the entire route to the destination.
Previously, specialists of the Oboronlogistics Group have already performed tasks for the transportation of resuscitation vehicles, airfield air conditioners, heat exchange points, tractors and other special, heavy and oversized equipment to various regions of the country. The main advantages of road transportation performed by Oboronlogistics Group are efficiency and a full range of logistics services, including freight forwarding services.