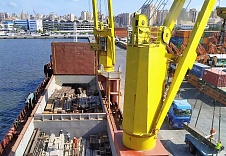 In June 2022, the cargo ship Pizhma, owned by Oboronlogistics, completed another cruise on the route Novorossiysk – Alexandria - Novorossiysk.

This time, the ship delivered a batch of commercial cargo with a total weight of about 2 thousand tons, including special metal structures intended for the construction of nuclear power facilities in the Arab Republic of Egypt.

The universal cargo ship Pizhma is designed for the delivery of containers, general and project cargo and is certified for the transportation of goods of all hazard classes. At maximum load, the vessel can carry over 4 thousand tons in one voyage.

The Port of Alexandria is located on the western shore of the Nile Delta between the Mediterranean Sea and Mariut Lake, equipped with infrastructure that allows handling all types of cargo, is the largest port and commercial center in the eastern Mediterranean. The way from the port of Alexandria to Novorossiysk is covered by the vessels of Oboronlogistics in 5 days.