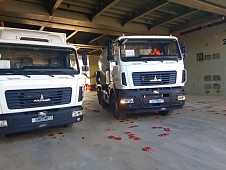 In June 2022, the ship Sparta II delivered a large batch of various commercial cargo to the Syrian port of Tartus, as part of which special equipment of JSC Minsk Automobile Plant arrived in Syria as humanitarian aid from the Republic of Belarus.

The vessel also delivered containers with industrial equipment and construction materials for the restoration of the water supply system and the oil and gas complex of Syria, base oils and food products (starch).

The deliveries are the result of cooperation between Russian, Belarusian and Syrian companies within the framework of the implementation of intergovernmental agreements on the development of trade and economic cooperation between the states.

The cargo ship of LLC Oboronlogistika Sparta II of the RO-RO/LO-LO class, thanks to its design, is capable of transporting any type of general cargo, including containers and rolling equipment. The presence of ship cranes with a lifting capacity of 60 tons each and a stern cargo ramp allows for operational cargo handling in a vertical and horizontal way.