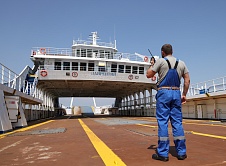 Cargo ferry LLC "Oboronlogistika" "Lavrenty" completed the first round trip from Yeysk to Mariupol and back. The flight was of a technical nature, the coupling of the ferry with the port infrastructure was checked.

LLC Oboronlogistika, a transport and logistics operator that is part of the Military Construction Complex of the Ministry of Defense of Russia, delivering various cargoes by its own sea vessels in the waters of the Black and Mediterranean Seas, the Baltic, the Arctic and the Far East, is preparing to launch a regular ferry line through the Taganrog Bay, which will connect Yeysk and Mariupol.

Now, in accordance with international standards of maritime transportation, a package of navigation documents is being drawn up, a mooring front is being prepared for servicing the vessel. As soon as all technical and legal procedures are completed, the ferry "Lavrentiy" will get on the line.

Earlier, the Lavrenty successfully completed the tasks set by the Supreme Commander-in-Chief at the Kerch ferry crossing. It can carry up to 700 tons of cargo (including up to 20 Eurofours and more than 130 passengers), can reach speeds of up to 12 knots and cover the distance from one port to another in 4 hours.

The operation of the ferry line will be focused primarily on the delivery of civil and construction goods to Donbass.