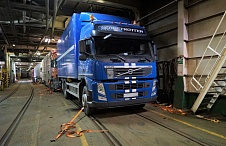 In the conditions of economic challenges and threats, one of the primary tasks of Oboronlogistics LLC is to ensure the uninterrupted operation of the Ust-Luga – Baltiysk railway ferry line.
In order to maintain the energy security of the region, in August 2022, the Marshal Rokossovsky ferry delivered to Kaliningrad cars with cargo necessary for routine repair work on gas turbine installations that ensure the readiness of power plants for the autumn-winter period of 2022/2023.
In addition to railway cars, the ferries "Ambal", "Baltiysk" and "Marshal Rokossovsky" transport heavy and oversized cargo on trawls. This type of delivery is suitable for the transportation of heavy machinery, equipment and metal structures.
Currently, all ferries run with 100% load, and seats on ferries from Ust-Luga are booked until mid-October 2022.