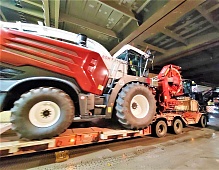 On July 28 – 30, 2022, the annual open-air agricultural exhibition The Russian Field Day took place in the Kaliningrad region. Its purpose is to demonstrate the achievements of the agro–industrial complex of the country, domestic agricultural technologies, innovative methods of land use, modern agricultural machinery, products of producers and breeders, research institutes.
According to the organizer (Ministry of Agriculture of the Russian Federation), the exhibition is a very important platform for constructive dialogue, which allowed participants to exchange experiences and establish business contacts. Following the results of the exhibition, the Ministry of Agriculture of Russia sent a letter of thanks to LLC Oboronlogistics with words of appreciation for the help in organizing the preparation and holding of the event.
The delivery of exhibits to the Kaliningrad Region (combines, tractors and other heavy equipment) was carried out by the vessels of Oboronlogistics: Ambal, Baltiysk and Ursa Major, working on the Ust-Luga – Baltiysk line. Today, sea transportation is the most convenient and guaranteed way of transporting goods to the Kaliningrad region, bypassing the territories of limitrophs.
In addition to railway cars, the ferries Ambal, Baltiysk and Marshal Rokossovsky transport bulk cargo on trawls. This type of delivery is suitable for the transportation of heavy machinery, metal structures, household units, electrical transformers, harvesters and harvesting equipment.
Ferries also regularly provide transportation of heavy cargo and valuable exhibits between Kaliningrad and the main territory of Russia.
Among the shippers of the line: the Ministry of Defense of Russia, Rosgvardiya, the Military Construction Complex of the Ministry of Defense of Russia, JSC Russian Railways, PJSC LUKOIL, LLC Avtotor Holding, Holding Eurocement Group, agro-industrial holding Miratorg, the State Tretyakov Gallery, the Museum of the World Ocean, LLC GLAVTSIRK and other customers.