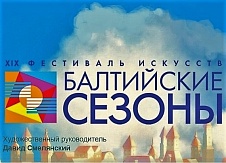 On September 15-21, 2022, the Kaliningrad Regional Drama Theater will host the oldest in the region XIX festival of arts – Baltic Seasons.

This year, the festival program includes the State Maly Theater of Russia with productions of "Physics" and "Players", as well as the Higher Theater School (Institute) named after M.S. Shchepkin with the play "Such people live".

The Baltic Seasons Festival is a long-awaited event and enjoys constant interest among residents and guests of the Kaliningrad region. However, this year, as a result of sanctions pressure and difficulties with the transit of expensive stage equipment through the territory of Lithuania, the festival could be in danger of disruption.

In this regard, the organizers made a decision on the sea transportation of decorations and inventory by ships of Oboronlogistics LLC on the Ust-Luga – Baltiysk line. Taking into account the specifics of the rehearsal process, the props were sent to Kaliningrad in advance on the Marshal Rokossovsky ferry on September 7, 2022.

Thus, thanks to the operational cooperation of the Ministry of Culture of the Russian Federation, the Government of the Kaliningrad Region, the organizers of the festival and the company Oboronlogistika, the Baltic Seasons festival will be held in full.

The Ust-Luga – Baltiysk railway ferry line is an important transport artery between the Kaliningrad Region and the main territory of the country, allowing cargo to be delivered, bypassing the territory of limitrophs.

The uninterrupted operation of the Ust-Luga – Baltiysk line is one of the primary tasks of Oboronlogistics LLC not only within the framework of ensuring the vital activity of the region with essential goods, but also preserving the diversity and completeness of cultural life in the region.