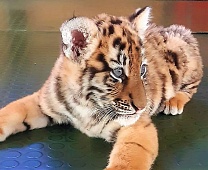 The Oboronlogistics rail ferries operating on the Ust-Luga — Baltiysk line, as a rule, carry out the transportation of wagon trains, bulky cargo and heavy equipment. However, the capabilities of ferries allow for the transportation of more delicate goods that require a special approach during transportation.

In September 2022, the ferry Ambal delivered four-legged artists of the touring circus Vivat from Ust-Luga to Baltiysk. The circus with an extensive program Bengal Tigers will delight residents and guests of Kaliningrad and the region from September 17 to November 27, 2022.

The youngest artists – Bengal tiger cubs - enjoyed special care and attention on the ferry. In July, a circus tigress gave birth to five babies at once, which is an extremely rare phenomenon in nature. The circus staff will have a difficult job of raising and training tiger cubs for further artistic activity, but in the meantime they travel with their mother and master the touring life from the "young claws". Four-legged artists were transported in special trailers.

Previously, ferries have already transported animals in the interests of agro-industrial holdings, nature reserves and farms in Russia, as well as circus animals for Circus of Marine Animals, GLAVTSIRK and Circus World, including dolphins, lions, bears, fur seals, monkeys, parrots, dogs, horses, ponies, elephants and camels. All of them were delivered on time and without complaints from the customer. It should be noted that the transportation of pets in cabins by the ferry Ambal, Baltiysk and Marshal Rokossovsky is prohibited.

Under the conditions of sanctions pressure, ferry transportation is the most convenient and safe way to transport goods between the Kaliningrad and Leningrad regions of the Russian Federation. Transportation is carried out without transit through the territories of limitrophs. The flight duration is about 40 hours.