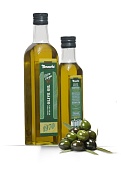 As part of the implementation of intergovernmental agreements in the field of trade and economic cooperation between the Russian Federation and the Syrian Arab Republic, in September 2022, the Oboronlogistics ship delivered construction materials and industrial products to the port of Tartus. On the return flight to the port of Novorossiysk, another batch of Syrian olive oil arrived.

The trial batch delivered by the Oboronlogistics vessel in August was successfully implemented in Russian retail chains and received positive feedback from consumers: Syrian butter has a slight bitterness, a subtle fruity aroma and is suitable for any dishes.

Olive cultivation in the Eastern Mediterranean is a traditional agricultural activity. Currently, the Syrian Arab Republic is reviving the production of oil, which is not only not inferior in quality, but also surpasses Western analogues.

The Russian importing company plans to increase supplies and expand the sales market, not only of olive oil, but also a number of other food products from Syria.