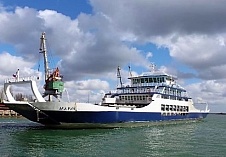 Oboronlogistics, one of the structural divisions of the Military Construction Complex of the Ministry of Defense of Russia, makes every effort to ensure transport links between the Crimean Peninsula and the Krasnodar Territory. The ferry crossing port of Crimea – port of Caucasus is organized under the personal supervision of the Deputy Minister of Defense of the Russian Federation T.V. Ivanov.
On October 9, 2022, it was decided to temporarily remove the passenger ferry Lavrentiy from the line Yeysk –Mariupol and relocate it to the line Crimea - Caucasus. On the evening of October 10, he was joined by another ferry – Mariya.
Currently, both ferries operate on the Kerch Ferry Crossing, carrying passengers and heavy trucks. As of October 11, 488 pieces of equipment, 1784 passengers and 9.5 round trips were transported by ferries in total.
Each ferry can carry up to 700 tons of cargo (including up to 20 Eurofours and more than 130 passengers) and is capable of speeds up to 12 knots. The time spent on a ferry crossing the Kerch Strait is just over an hour, loading and unloading operations in ports take about 20-25 minutes. One ferry can make 7-8 round trips per day.
Earlier, before the Crimean Bridge was put into operation, Oboronlogistics vessels had already delivered passengers and cargo from the port of Kavkaz to the Kerch port of Crimea and back.