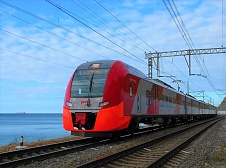 The first four passenger electric trains Lastochka arrived in the Kaliningrad region on the eve of the 2018 FIFA World Cup. They were intended to cover the needs for spacious suburban transport during the World Cup, and subsequently began to be used to serve passengers of the Zelenograd and Svetlogorsk directions. In 2022, the park of new trains in the Kaliningrad Region increased to 11 units.
The high-speed electric train Lastochka of the ES2G series consists of five cars, the total length of the train reaches 130 meters. The train has improved acceleration and deceleration dynamics, which allows you to maintain a high speed of movement. The climate system ensures the comfort of passengers, the toilets are equipped with the latest technical solutions, quartz lamps allow to disinfect the air. Maintenance of trains is carried out in St. Petersburg.
Due to the fact that the transit of trains and goods through the territory of Lithuania has been stopped since March 2022, routine maintenance at the service center was under threat. However, even here Oboronlogistics came to the rescue, which is the owner of the Ambal and Baltiysk ferries operating on the Ust-Luga -Baltiysk railway ferry line, as well as the cargo operator of the General Chernyakhovsky and Marshal Rokossovsky ferries, just on which the Swallows are now delivered to St. Petersburg for service, and return back.