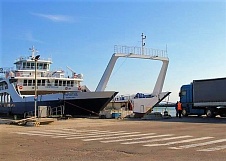 Since the beginning of the resumption of the ferry crossing between the Crimea and the Krasnodar Territory, Oboronlogistics ferries Maria and Lavrenty have delivered more than 7,000 passengers and 3,000 heavy-duty vehicles, which makes up the majority of all passengers and cargo transported on the Kerch ferry. In total, during the week from October 9, 2022, the ferries of Oboronlogistics made 50 round trips.

It should be noted that weather conditions affect the operation of the ferry crossing. In favorable weather, ferries Maria and Lavrenty run on the shortest route port of Crimea – port of Caucasus. When the wind increases, ferries are sent to the Kerch fishing port. The travel time from the port of Crimea to the port of Kavkaz takes half an hour, and from the Kerch fishing port – an hour and a half.

Before the Crimean Bridge was put into operation in 2018, Oboronlogistics vessels had already delivered passengers and cargo from the port of Kavkaz to the port of Crimea and back. Knowledge of the route, trained crews and the serviceable condition of the vessels allowed Oboronlogistics to put the vessels on the line as soon as possible and provide transport links between the Crimean Peninsula and the Krasnodar Territory.

Having its own fleet of 9 vessels, Oboronlogistika is ready to continue solving strategic tasks to ensure maritime transport accessibility of Russian regions in the future.