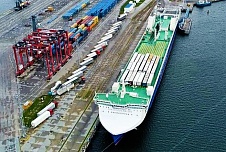 On the railway ferry line Ust-Luga – Baltiysk (Line), the situation with the loading of rolling equipment is being stabilized. Two factors contribute to this: an increase in the number of ships on the Line and the introduction of new software. Their combination has saved shippers from having to stand in queues at ports waiting for shipment.

Oboronlogistics LLC, as a shipowner and operator of the Ust-Luga – Baltiysk railway ferry line, together with its line agents in the ports of Baltiysk and Ust-Luga, has created a system for automated acceptance of applications and their distribution to the entire fleet on the Line. The system allows the customer to automatically calculate the price, make payments and track the specific date and time of their flight, see any changes in the ferry schedule.
The following procedure for booking parking spaces on ferries has been established:

1. The customer (natural or legal person) submits an application for the transportation of a motor vehicle. To do this, he fills out an electronic form on the websites of linear agents of LLC Oboronlogistics in the ports of Baltiysk (LLC TBK, www.transbc.ru ) or Ust-Luga (LLC ImexsErvice, www.imex-service.ru ) in the "Online application" section, in which it indicates the information necessary to organize the shipment of the cargo.

2. Following the results of consideration of the application (the period, as a rule, does not exceed 24 hours), information about the possibility / impossibility of transportation is sent to the customer by e-mail. When confirming the application, its registration number, the name of the ferry on which the transportation is planned, and the flight number are reported.

3. On websites www.imex-service.ru and www.transbc.ru the current schedule of ferry flights is published. According to the flight number, the customer has the opportunity to independently track the date of departure of the ferry and deliver the vehicle to the port directly at the time of loading.

Currently, there are 5 vessels operating on the line. Railway wagons are distributed to the ferries Ambal, Baltiysk, Marshal Rokossovsky and General Chernyakhovsky. The latter also transport rolling equipment. The cargo ship Sparta transports containers. In the near future, it will be joined by another universal cargo ship Oboronlogistics – Sparta II.