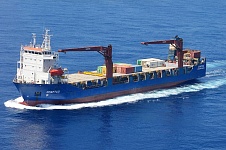 To strengthen Oboronlogistics flotilla that provides cargo delivery to the Kaliningrad region, the universal cargo ship Sparta II has been relocated from Novorossiysk to Baltiysk for further work on the container line between St. Petersburg and Kaliningrad.
Universal cargo ship Sparta II of the RO-RO/LO-LO class can carry any type of cargo for various purposes. The vessel has a cargo hold and decks to accommodate containers and rolling equipment.
The ship cranes with a lifting capacity of 60 tons each and a stern cargo ramp allows cargo handling in a vertical and horizontal way.
The length of the vessel is 121.7 m, width – 18.7 m. At maximum load, the Sparta II has the following characteristics:
deadweight – 8000 tons;
the draft – 7 m;
speed – 11 knots.
Operation and organization of loading of the vessel is carried out by specialists of LLC Oboronlogistika. To transport containers on the line, please contact the Shipping Department:
tel.: +7 (499) 608-89-93 ext. #3358, #3371,
email address: arctic@obl.ru