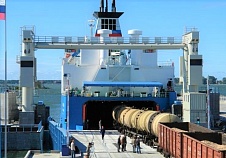 The indicators of ferry transportation organized by the specialists of Oboronlogistics LLC in October 2022 increased significantly.
Four ferries are currently operating on the Ust-Luga – Baltiysk railway ferry line, operated by Oboronlogistics LLC: Ambal, Baltiysk, Marshal Rokossovsky and General Chernyakhovsky, which first entered the line.

In October 2022, railway ferries delivered 82,600 tons of cargo to Kaliningrad (which is 24,000 tons more than in September), including:

fuels and lubricants - 48,000 tons;
rolling equipment – 14,200 tons (720 units);
construction materials – 9,200 tons;
fertilizers – 9,000 tons;

as well as other goods necessary to ensure the vital activity of the Kaliningrad region. Seats on ferries from Ust-Luga to Baltiysk are booked until mid-December 2022.

In October 2022, there was a stabilization of the situation with rolling equipment on the line: the queue of trucks was halved. The introduction of the electronic queue by Oboronlogistics LLC helped, as well as the launch of the new General Chernyakhovsky ferry, which was loaded exclusively with rolling equipment during the first flights.

The universal bulk carriers Ursa Major and Sparta involved in the line transported more than 28,000 tons in October 2022 (which doubled the volume of cargo transported in September 2022), including:

containers – 1,382 units. (23,498 tons);
general cargo – (2,656 tons);
rolling equipment – 84 units . (1,144 tons).

At the end of October 2022, another vessel of Oboronlogistics LLC, the container ship Sparta II, was delivered to replace the dry cargo ship Ursa Major on the Ust-Luga – Baltiysk line. On November 1, the vessel made its first voyage with rolling equipment from Baltiysk to Ust-Luga.

In October 2022, the ferry line Crimea – Caucasus resumed operation, which involved cargo and passenger ferries of LLC Oboronlogistika: Maria and Lavrenty. In total, during the month, the company's ferries made 160 round trips, transported more than 8,000 vehicles and 13,778 passengers, which is the majority of all passengers and cargo transported at the Kerch ferry crossing.