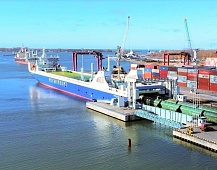 In November 2022, in conditions when Lithuania completely blocked the transportation of construction goods through its territory, Rosmorport and Eurocement Holding, with the assistance of Oboronlogistics LLC as the operator of the Ust-Luga – Baltiysk ferry line, reoriented the delivery of cement on the new railway ferries Marshal Rokossovsky and General Chernyakhovsky.

LLC Oboronlogistics carries out planning, dispatching and preparation of cargo shipments, controls the loading and schedule of ferries. Every week ferries make 2-3 trips with cement. Since the beginning of November, more than 200 wagons with cement have been delivered to Kaliningrad by new ferries. In total, by the end of 2022, it is planned to transport about 70 thousand tons of this building material by railcars.

Kaliningrad Region is one of the actively developing subjects of the Russian Federation. Despite the sanctions imposed by the European Union, infrastructure, housing, social and tourist facilities are being built in the region. In turn, the Ust-Luga – Baltiysk railway ferry line continues to meet the growing needs of the region.