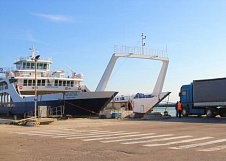 In November 2022, LLC OBL-trans, part of the Oboronlogistics Group of Companies, delivered unique medical equipment to the Republic of Crimea.

A Russian-made mobile tomograph weighing 27 tons and costing more than 100 million rubles was transported on a special vehicle (low-frame trawl) designed to transport oversized cargo on a door-to-door basis: from the manufacturer's warehouse to a medical facility in the Republic of Crimea.

Specialists of "OBL-trans" carried out control over the transportation of cargo along the entire route from the Kaluga region to the destination, as well as loading and unloading operations.

The transportation itself was multimodal, since in addition to the low-frame trawl, the Lavrenty ferry belonging to Oboronlogistics LLC, operating at the Kerch ferry crossing, was also involved. To do this, the company's specialists performed the necessary calculations and developed a scheme for loading a motor vehicle onto a ferry, taking into account the weight and dimensional characteristics of the cargo, the characteristics of the vessel and the vehicle.

Previously, the company's specialists performed a number of similar tasks for the delivery of various medical equipment, resuscitation vehicles and artificial lung ventilation (ventilator) devices to other regions of the country. The main advantages of transportation performed by Oboronlogistics Group are the responsibility of the carrier and the efficiency of transportation, the possibility of delivering goods "door to door", a full range of logistics services, including freight forwarding services.