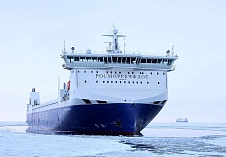 The Ust-Luga – Baltiysk railway ferry line is the only transport artery between the Kaliningrad Region and the main territory of the country, which allows delivering goods, bypassing the territories of limitrophs.

Currently, there are 4 ferries operating on this line: Ambal, Baltiysk, General Chernyakhovsky and Marshal Rokossovsky.

The first two are operated by Oboronlogistics independently and got on the line more than 12 years ago. But the ferries General Chernyakhovsky and Marshal Rokossovsky, built by Nevsky Shipbuilding and Ship Repair Plant LLC in cooperation with the Turkish shipyard Kuzey Star Shipyard by order of FSUE Rosmorport, entered the line in March and October 2022.

The launch of new ferries on the line in 2022 made it possible, under the conditions of sanctions restrictions by states unfriendly to the Russian Federation, to significantly increase the range of goods and the volume of transportation for the life support of the Kaliningrad region.

From the very beginning of the work of the new ferries, Oboronlogistics was determined by the cargo agent for them according to the results of the competition.


For reference
What a cargo agent does:
interacts with clients interested in the transportation of goods, conducts negotiations with them and concludes contracts;
provides loading and unloading of cargo by stevedoring companies;
draws up the documents necessary for cargo transportation;
provides other necessary services related to the transportation of goods and passengers;
sells tickets for passengers.


On December 6, 2022, Rosmorport, as the owner of the CNF19M ferries (Marshal Rokossovsky and General Chernyakhovsky), held another competition, which Oboronlogistics won, and will remain a cargo agent for these ferries in 2023 and 2024.

Oboronlogistics interacts with all participants in the transportation process, constantly monitoring the loading and movement schedule of all ferries operating on the line. To reduce the downtime of ferries, cargo, wagons and rolling equipment are distributed to the nearest ship arriving on schedule.