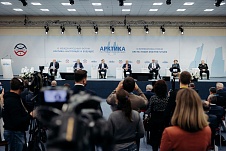 The delegation of Oboronlogistics LLC takes part in the annual traditional event – the International Forum The Arctic: Present and Future, which takes place in St. Petersburg at the Expoforum Convention and Exhibition Center on December 8-9, 2022.

The main task of the current forum was to ensure the sustainable development of the Arctic against the background of global geopolitical and economic changes. Today, this region is facing such challenges as the termination of international cooperation, the reorientation of logistics to the east, the lack of technology and equipment, the shortage of personnel and competencies for the implementation of Arctic projects. The forum participants will look for answers to the existing questions of the modern development of the Arctic.

For their part, the specialists of Oboronlogistics are ready to share their acquired knowledge about working in the Arctic and offer solutions to a wide range of logistics tasks in the field of cargo transportation. The vessels of Oboronlogistics LLC have been operating regularly in the Arctic and on the Northern Sea Route since 2018. The company is open to discussing the prospects of joint work on existing and new projects in the Arctic with all interested partners.
Special attention at the forum will be paid to important dates for the Arctic: in 2022, the 90th anniversary of the Northern Sea Route is celebrated, the 85th anniversary of the start of the world's first drifting scientific station "North Pole-1", 15 years of the High-latitude Arctic deep-sea expedition.

It is expected that 2,000 participants from various regions of Russia, as well as a number of other countries, will arrive at the forum. The event is organized by the Association of Polar Explorers with the participation of both chambers of the Federal Assembly of the Russian Federation, the Government of the Russian Federation, the State Commission for the Development of the Arctic, relevant ministries and departments, representatives of regional and local authorities, heads of companies and businesses, experts, the scientific community and the media.