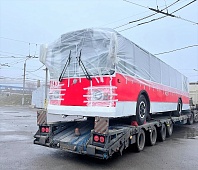 On the eve of the New Year 2023, LLC OBL-trans, part of the Group of companies Oboronlogistics, carried out the operational transportation of a museum exhibit – the legendary trolleybus ZiU-682V1, which was transferred to the Municipal Unitary Enterprise Metroelectrotrans of Volgograd to the Tver multimedia museum complex Russia – my History.

Now a bright red trolleybus is installed on a pedestal in the museum park on the embankment of the Lazuri River, and already in the upcoming New Year holidays residents and guests of Tver will be able to admire the new exhibit.

The trolleybus weighing about 6 tons proceeded on a special low-frame trawl from Volgograd to Tver, having overcome 1,200 km. The specialists of OBL-trans worked out the scheme of loading and unloading, controlled the transportation of unique cargo, provided a full range of forwarding services on the route.
Similar tasks for the delivery of oversized cargo to various regions of the country are performed by the company's specialists on a regular basis. The main advantage of transportation performed by Oboronlogistics Group is maximum convenience for shippers and prompt solution of any problems during the delivery of goods "door to door".

The ZiU-682V1 trolleybus (or ZiU-9) has been mass-produced at the Uritsky Plant (now Engels Electric Transport Plant) in the Saratov Region since 1972. Comfortable, roomy, eco-friendly and economical, it became the most popular trolleybus in the world, was operated in the USSR, in the post-Soviet space, in Europe and South America.

To date, its modifications have become obsolete and are being replaced by more modern types of passenger electric vehicles, including electric buses. However, it can still be seen in many Soviet and Russian films, on pedestals in Russian cities.