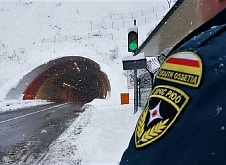 At the end of December 2022, OBL-trans LLC, which is part of the Oborlogistics Group of Companies, carried out the road transportation to the Republic of South Ossetia of humanitarian cargo provided by the Ministry of Civil Defense, Emergencies and Disaster Relief of the Russian Federation.

Food, construction materials and special equipment, tents, water tanks, dishes, etc. were collected by representatives of OBL-trans from 11 different plants of Rosrezerv throughout Russia, accumulated in one warehouse and then sent on vehicles that have the ability to carry out international transportation (with a MAP card).
In total, 220 tons of cargo were transported on 12 specialized vehicles. The specialists of OBL-trans controlled the crossing of the entire route by cars, as well as carried out the necessary measures to pass border control. On snow-covered mountain roads, vehicles with a load of up to 25 tons were transported in difficult weather conditions using special devices that provide increased traction.

In addition to cargo transportation in the interests of the Ministry of Defense and the Ministry of Emergency Situations of Russia, subordinate organizations and enterprises of the military-industrial complex, Oboronlogistics Group performs road transportation on a commercial basis of any cargo, including medicines, perishable p
roducts and other goods requiring special storage and transportation conditions both on the territory of the Russian Federation and abroad limits.