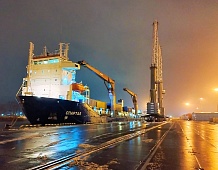 Currently, the Kaliningrad Region is one of the actively developing subjects of the Russian Federation. Despite the sanctions from the European Union and the United States, the construction of infrastructure facilities is actively underway in the region. The carrying capacity of Oboronlogistics vessels operating on the line between St. Petersburg and Kaliningrad meets the growing needs of the region.

The universal bulk carriers Oboronlogistics Sparta and Sparta II of the RO-RO/LO-LO class, relocated in 2022 from Novorossiysk to Baltiysk to work on the container line between St. Petersburg and Kaliningrad, transport not only containers and rolling equipment, but also bulk industrial cargo for the region. This type of delivery is optimal for transporting heavy machinery and equipment, metal structures, pipes for drilling, wind turbines, etc.

Universal bulk carriers of LLC Oboronlogistics, thanks to their design, can carry loads of various purposes. The vessels have holds and cargo decks, and the presence of ship cranes and a stern cargo ramp allows cargo handling both vertically and horizontally.

Operation and organization of loading of vessels Sparta and Sparta II is carried out by specialists of LLC Oboronlogistics.

To arrange delivery, please contact the Shipping Department:
tel.: +7 (499) 608-89-93 ext. #3358, #3371,
e-mail: arctic@obl.ru