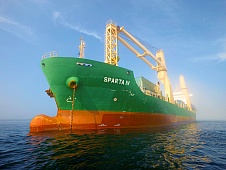 On January 25, 2023, the next round trip to the Syrian port of Tartus of the Sparta IV cargo ship owned by Oboronlogistics LLC was completed. Commercial cargo was transported to Syria, which traditionally included industrial equipment for the repair and construction of Syria's civil infrastructure, fuel and lubricants.

In December 2022, the shipping line connecting the ports of Novorossiysk and Tartus turned 6 years old. During this time, Oboronlogistics vessels operating on the line have made hundreds of flights, delivered tens of thousands of tons of cargo for various purposes. In the opposite direction, light industry goods and agricultural products are coming from Syria.

The transportation is carried out as part of the joint work of Russian and Syrian companies to restore the Syrian economy and implement agreements in the field of trade and economic cooperation between the two countries, in particular in the construction and agricultural sector. In addition, under the conditions of sanctions, there is an active reorientation of Russian companies to new buyers and suppliers in the Middle East.

The presence of its own transport and logistics infrastructure and a customs control zone in Novorossiysk allows Oboronlogistics to create favorable conditions for increasing exports and imports of goods between Russia and the Middle East region.

The high-speed cargo ship Sparta IV is designed for the delivery of general, container and bulk cargo, as well as the transportation of goods requiring special conditions, including perishable products, dangerous goods, cars, heavy construction equipment and oversized cargo.

The vessel has two cargo holds and is capable of loading 630 TEU, including 44 refrigerated containers. Two cargo cranes with a lifting capacity of 55 tons each allow for rapid cargo handling. The deadweight of Sparta IV is 8,625 tons.