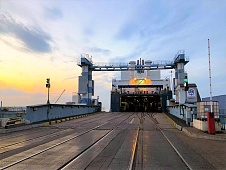 The indicators of transportation performed by ferries of Oboronlogistics LLC in January 2023 demonstrated stable growth.

The Crimea – Caucasus ferry line, which involves cargo and passenger ferries Maria and Lavrenty, continued to increase the number of transported vehicles and passengers.

In total, in the first month of 2023, these ferries made 329 round trips (40 more round trips than in December 2022), transported more than 13,700 vehicles (this is 2,500 more than last month) and more than 16,000 passengers (3,000 more than in December 2022).

In January 2023, the railway ferries Ambal, Baltiysk, Marshal Rokossovsky and General Chernyakhovsky, operating on the Ust-Luga – Baltiysk line, delivered 1,189 wagons (72,700 tons of cargo) to Kaliningrad, including:

construction materials – 21,200 tons;
fuel and lubricants – 20,580 tons;
rolling machinery – 11,440 tons (519 units);
coal – 4,000 tons;
food – 470 tons.

It should be noted that in mid-January, the Baltiysk railway ferry (built in 1984) was taken out for scheduled repairs. Currently, the line is operating normally, but the total volume of cargo transported by rail ferries in January decreased slightly.

The volume of traffic on the ships Sparta and Sparta II, involved on the Ust-Luga – Baltiysk line, remains at the level of last month. At the same time, the number of general cargo transported has increased. In total, in January 2023, the vessels Sparta and Sparta II transported about 20,000 tons of cargo, including:

containers – 765 units. (12,763 tons);
rolling equipment – 209 units . (5,910 tons);
general cargo – 1,242 tons.