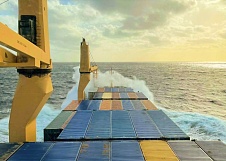 As always, winter storms are raging on the Baltic and the Black Sea coast in February. Sea cargo transportation carried out by vessels of Oboronlogistics LLC on the Ust-Luga – Baltiysk, Kerch – Caucasus and Novorossiysk – Tartus lines is carried out "according to the weather".

Stormy weather is forecast in the Baltic Sea from February 9 to 12, 2023. Ferries Ambal, Marshal Rokossovsky, General Chernyakhovsky, as well as bulk carriers Sparta and Sparta II are operating normally, but flight delays are possible.

The Black Sea coast continues to be at the mercy of the strongest Nord-ost – bora. Bad weather disrupted the work of the port of Novorossiysk. The bulk carriers Sparta IV and Pizhma are in port waiting for the weather conditions to improve.

The storm interrupted the work of the Kerch ferry crossing. Ferries Lavrentiy and Maria are waiting for the weather at the berths in the ports Kerch and Caucasus, respectively. According to forecasts of meteorologists, storm winds, blizzard and icy conditions will persist throughout the region over the next day. Improvement is expected on February 9-10, 2023.

In addition, the Mediterranean is experiencing the effects of a powerful earthquake in the south-east of Turkey. In the Syrian Arab Republic, the impact of the elements was felt in Aleppo, Latakia and Tartus. The Russian Defense Ministry reported that there were no destructions at Russian military facilities, including in the port of Tartus. The Russian military provides assistance to the civilian population.

The ship safety management system of Oboronlogistics complies with the requirements of the International Code for the Management of Safe Operation of Ships and Pollution Prevention (ISM Code). The crews, under the guidance of experienced captains, follow all the proper instructions, maintain the proper operation of the vessels, comply with the rules of safe operation.