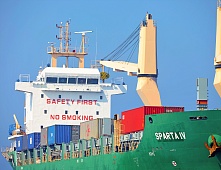 On February 6, 2023, a powerful earthquake occurred in Turkey and Syria, thousands of homes were destroyed, thousands of people are suffering. In the Syrian Arab Republic the main impact fell on Aleppo, Latakia and Tartus.

On February 25, 2023, the cargo ship Sparta IV, owned by Oboronlogistics LLC, delivered commercial cargo to the Syrian port of Tartus, which included a significant batch of humanitarian aid intended for residents of the earthquake-affected Syrian provinces.
In particular, electric heaters, lighting and household appliances, baby food, medical products, personal hygiene items and basic necessities were delivered. The transportation was carried out as part of the joint work of Russian and Syrian companies, as well as the Charity Foundation Pure Heart.
The high-speed cargo ship Sparta IV is designed for the delivery of general, container, bulk cargo and cargo requiring special conditions, including perishable products, dangerous goods, cars, heavy construction equipment and oversized.
The vessel has two cargo holds and is capable of loading 630 TEU, including 44 refrigerated containers. Two cargo cranes with a lifting capacity of 55 tons each allow for rapid cargo handling. The deadweight of Sparta IV is 8,625 tons.