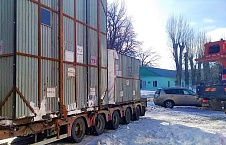 At the end of February 2023, LLC OBL-trans, which is a part of the Oboronlogistics Group of companies, carried out operational automobile transportation of a pipe-cutting machine with numerical control (CNC) for the AVTOVAZ industrial park in Toliatti.

Under the conditions of the import substitution policy of Russian Federation, CNC machines are an important part of the automation of the workflow and a key factor in ensuring the quality and speed of production.

The machine weighing more than 20 tons, designed for the manufacture of metal structures, required careful transportation. It could be organized only by specialists of LLC OBL-trans, who controlled the transportation of the machine on a low-frame trawl along the entire route, and also carried out the necessary measures for rigging and loading with the involvement of special mechanized loading facilities. In addition, transportation and unloading was carried out in difficult weather conditions.

In addition to cargo transportation in the interests of subordinate organizations of the Ministry of Defense of the Russian Federation and enterprises of the military-industrial complex, Oboronlogistics Group constantly performs road transportation on a commercial basis of any cargo, including oversized cargo, medicines, perishable products and other goods requiring special storage and transportation conditions both on the territory of the Russian Federation and abroad.