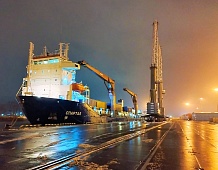 The indicators of transportation performed by the vessels of Oboronlogistics LLC in February 2023 remain stable.

Despite the resumption of automobile traffic on all lanes of the Crimean Bridge from February 23, 2023, the ferry line Crimea – Caucasus, on which the ferries Maria and Lavrenty are involved, continues to operate as usual.

Despite the fact that in February 2023, the ferry had to interrupt work due to worsening weather conditions, in total, during the month, Oboronlogistics ferries made 304 round trips, transported more than 12,000 vehicles and more than 13,800 passengers. Since the beginning of March 2023, there have been no storm warnings in the Kerch Strait area.

In February 2023, the ferries Ambal, Marshal Rokossovsky and General Chernyakhovsky, operating on the Ust-Luga – Baltiysk railway ferry line, delivered 913 wagons (44,700 tons of cargo) to Kaliningrad, including:

fuel and lubricants - 16,000 tons;
rolling equipment – 13,400 tons (701 units, which is 200 units more than in January);
construction materials – 8,500 tons;
fertilizers – 5,500 tons .

In mid-January, the Baltiysk railway ferry (built in 1984) was taken out for scheduled repairs, during which a number of technical malfunctions were identified, and therefore the repair of the vessel continues.

In addition, at the beginning of 2023, it was decided to load individual ferry flights exclusively with rolling equipment. Thus, the volume of rolling equipment transported to Kaliningrad increased, and the total volume of cargo transported by rail ferries in February decreased slightly.

The volume of traffic on the ships Sparta and Sparta II, involved in the container line St. Petersburg – Kaliningrad, remains at the level of last month. In total, in February 2023, the vessels Sparta and Sparta II transported about 15,582 tons of cargo, including:

containers - 879 units. (9,661 tons);
rolling equipment – 197 units . (5,160 tons);
general cargo – 731 tons .

On the line Novorossiysk – Tartus, the cargo ship Sparta IV made another trip on February 25, 2023, delivering a batch of commercial cargo, construction materials and food to the Syrian port. This time, a significant part was humanitarian aid intended for residents of the earthquake-affected Syrian provinces.