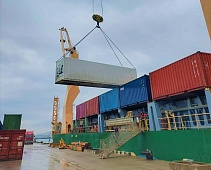 On March 6, 2023, the next round–trip Novorossiysk – Tartus - Novorossiysk of the Sparta IV cargo ship owned by Oboronlogistics LLC was completed.
In February 2023, Sparta IV transported humanitarian aid to Syria intended for residents of the earthquake-affected Syrian provinces.

In the opposite direction, the cargo ship delivered a fairly large batch of commercial cargo: refrigerated containers with Syrian oranges, olive oil and textile products arrived at the port of Novorossiysk.

The Syrian olive oil has already received positive reviews from Russian buyers. The season of picking oranges and tangerines in the coastal areas of Syria is in full swing. Up to one million tons of citrus fruits are grown annually in the country. Suppliers and manufacturers count on the successful sale of their products in Russian retail chains.

Syria is also famous for the production of cotton, wool, nylon and natural silk. Syrian fabrics were purchased in the USSR and are well known to the inhabitants of our country. Many factories in Aleppo, Damascus and Homs did not stop working during a difficult period for the country, and now they are increasing production and returning products to the Russian market.

In 2023, under the conditions of Western sanctions, there is active cooperation between Russian and Syrian manufacturers, and trade goes in both directions. In the near future, Russian suppliers are planning to send sunflower seeds and flour to Syria, and textiles and fruits back.

The transportation is carried out as part of the joint work of Russian and Syrian companies on the implementation of agreements in the field of trade and economic cooperation between the two countries.

The fast-moving cargo ship "Sparta IV" is designed for the delivery of general, containerized and bulk cargo, as well as the transportation of goods requiring special conditions, including perishable products, dangerous goods, cars, heavy construction equipment and oversized cargo.

The vessel has two cargo holds and is capable of loading 630 TEU, including 44 refrigerated containers. Two cargo cranes with a lifting capacity of 55 tons each allow for rapid cargo handling. The deadweight of Sparta IV is 8,625 tons.