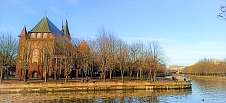 Oboronlogistics LLC, as the operator of the Ust-Luga - Baltiysk railway ferry line, continues to provide cultural events in the Kaliningrad Region. In particular, in February - March 2023, another batch of vehicles with equipment necessary for filming new multi-part feature films was delivered from Ust-Luga to Baltiysk.

Nature, climate, bright locations and architectural features of the Kaliningrad region create favorable conditions for film production. However, due to transit restrictions imposed by limitrophs, film companies are increasingly facing logistical difficulties and are forced to consolidate cargo from different film sets for shipment by ferry.

So in February 2023, vessels General Chernyakhovsky, Marshal Rokossovsky, Sparta and Sparta II delivered equipment to the region for filming a new historical spy drama "GDR" about the events of 1989 - 1990. Now filming is in full swing.

In March 2023, props for filming the second season of the socially significant series "Offline: 2.0" about IT specialists and the problem of drug trafficking in Russia were transported on the Marshal Rokossovsky ferry. And already on March 16, filming started.

With the well-coordinated interaction of representatives of the film company, as well as specialists of Oboronlogistics and its line agents in the ports of Ust-Luga and Baltiysk, the transportation took place without disruption and all the goods for the shooting were delivered on time.