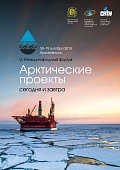 Participants of the Forum are leading Russian and foreign companies in the field of production, processing, transportation of oil and gas, engineering, shipbuilding, oil and gas operators, Federal and regional authorities, industrial and transport enterprises.
General Director of Oboronlogistika A.V. Filatov made a presentation at the session «Transport and logistics flows in the Arctic» on the topic «Experience and specifics of multimodal transportation in the Arctic». From 2017 by the decree of the Government of the Russian Federation Oboronlogistics is defined the only provider of works and services for the delivery of military goods and tangible property to the Kuril islands and the Arctic zone of the Russian Federation.
In 2017 Oboronlogistika opened flights Arkhangelsk — Novaya Zemlya. On September 26, 2018 Oboronlogistics completed Severny Zavoz (program to supply food and fuel to northern regions of Russia) advance in schedule. Taking into account the experience of the Сompany in the market of logistic services of Russia, in the Arctic as well, General Director of Oboronlogistika A.V.
Filatov in his report outlined and highlighted a number of systemic issues relevant to Arctic transport in general, and also made suggestions on what and how can be improved in this important area. In particular, combination of cargoes from different customers on the same vessels requires coordination and increases the profit of shipowners.
The high cost of port charges and ice escorts make part of the transportation unprofitable. The lack of port infrastructure on the islands, need for cargo redistribution and use of off-shore boats requires an increase in the fleet of this type.
Increasing the regularity of Arkhangelsk-Novaya Zemlya flights is aimed at the socio-economic development of the Russian Arctic zone and the growth of its investment potential. However, today there is a great need to update the fleet of aircraft suitable for operation in the Arctic conditions, there have to be healthy competition of air carriers and special measures for the development of cargo transportation.
The high cost of the freight unit makes air transportation economically unprofitable, and the socio-economic situation in remote areas necessitates the containment of tariff growth. The innovative scenario of the Arctic zone development involves the introduction into the field of transport infrastructure of new equipment and technologies. To that end, the companies Oboronlogistika and Nauchny Logistichesky Tsentr created Situational and Logistics Center (SLC) in the management of marine operations in the Arctic zone of Russia.