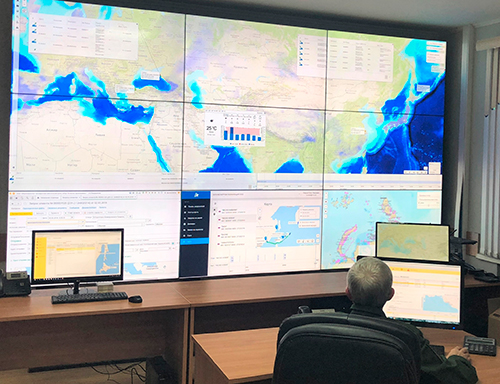 Representatives of Rosatom and Sovfraht got acquainted with the work of the Center, they were demonstrated the capabilities and functionality of the SLC to automate logistics operations, starting with the receipt of the order and ending with the delivery to the consignee.
The order management system within the Center provides a convenient IT-platform for users who want to order a transportation service in the Arctic region, as well as for the operational services of Oboronlogistics itself, which optimizes all business processes in order to choose the optimal way to fulfill the order. SLC system works not only with sea transportation, but also with multimodal and is designed to work with all types of vehicles, including sea, rail, road, air.
The system helps to quickly process the received information and make decisions using business analytics and visualization technologies, allows to optimally manage all the forces and means. All business processes of Oboronlogistics, including the Arctic zone, are carried out at the operators' workplaces.
In addition, it is possible to use the situation room of the SLC to hold collective discussion of the issues, work with the National Defense Operations Center of the state. The specific features of the Arctic shipping are extremely low temperatures, ice, fog, electromagnetic disturbances, snowstorms, lack of coastal infrastructure, narrow sea channels with limited visibility zones, communication problems.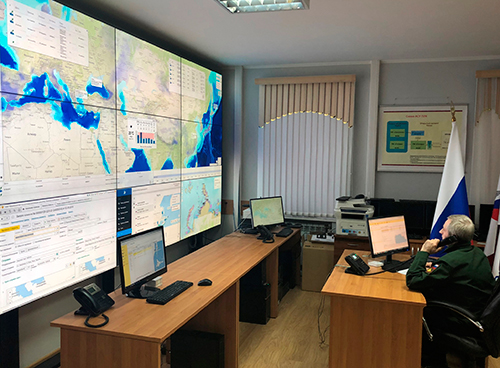 Situational and Logistics Center collects information on hydrometeorological and ice conditions, the state of rescue equipment, neighboring vessels, coastal infrastructure, changes in conditions in ports, etc. The condition and thickness of ice are shown on the maps with the special areas.
The headship of the State Atomic Energy Corporation Rosatom and PAO Sovfraht highly appreciated the capabilities of the SLC and noted that the SLC software currently has no analogues in the Russian Federation. The activity of the Situational and Logistics Center is designed to improve the safety and efficiency of vehicles in the Arctic zone, to provide visibility of the operational situation, traffic, cargo, stages of implementation of large projects, to optimize the management of loading and unloading operations, to coordinate logistics in the Arctic for participating companies.