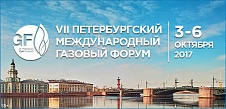 The St. Petersburg International Gas Forum is the largest international event in Russia, which has been held since 2011 and annually gathers the biggest representatives of international oil and gas corporations.
A wide exhibition program was presented at the forum, as well as a substantial and relevant congress part.
Deputy Minister of Energy of the Russian Federation Kirill Molodtsov in his speech to the participants of the press conference talked about the importance of integration of business programs of the forums into the concept of the Russian energy week:
«This year the Russian energy week is held in two cities, and events in Moscow will be supplemented by the events in St. Petersburg. This will give an ideal synergetic effect and will allow to fully cover the situation in the energy sector as a whole. Thus, Moscow will host a Forum of gas exporting countries, and the site in St. Petersburg will demonstrate the practical success of the industry, and all participants of the meeting in Moscow will visit the St. Petersburg forum to see the achievements of the largest domestic companies.»
A number of fruitful negotiations on the planned projects of the Oboronlogistika company were held as part of the forum.