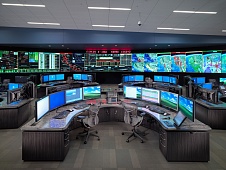 In order to implement in the Ministry of Defense of Russia the Concept of transport support in the Arctic and Kuril island areas «Oboronlogistics» LLC arranged and runs the work on creation in the capital of Pomorye (Arkhangelsk) Northwest sea transport management center, which will work both in the interests of the Ministry of Defense of Russia and civil organizations.
The Northern Sea Route is of great military, strategic, commercial and industrial importance both for the Ministry of Defense of Russia and the Russian Federation as a whole.
The unit of the Northwest centre will be one of the remote elements of the United Situational and Logistics Center of «Oboronlogistics» LLC, the head of which is located in Moscow.
The building for the Center was provided by the Northern (Arctic) Federal University.
The main function of this unit will be management of the sea transportation in the Arctic.
Besides, in future, it is planned to assign to the Centre tasks for the management of air transportation of the Company in the Northwest region.
Currently, «Oboronlogistics» LLC in collaboration with the Government of Arkhangelsk region is implementing a project of organizing flights between Arkhangelsk and Novaya Zemlya.