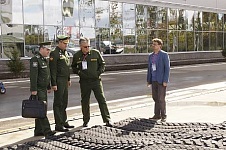 The Forum was held in the Congress and exhibition center of the Military-patriotic park of culture and recreation of the Armed Forces of the Russian Federation «Patriot». This is the largest site in Russia to display modern weapons, military and special equipment. Over half a million people, who witnessed the demonstration of running, flight and fire capabilities of weapons and military equipment, visited the exhibition pavilions and open expositions of the forum «ARMY—2016» with a total area of about 140 thousand square meters.
The event gave a powerful impetus to the development of advanced technical, technological and other solutions for the production of equipment, as well as the development of the service sector for the Armed Forces of Russia.
Representatives of more than 80 countries worked at the forum. 35 of them were represented by official delegations headed by heads of military departments or chiefs of General staffs or Deputy Ministers of Defence. In particular, the heads of the military departments of Bahrain, Argentina, Bolivia, Congo, Qatar, Tanzania, Burundi, Mali, Niger, Namibia and Zimbabwe showed great interest in the forum. The result was the conclusion of 17 state contracts totaling more than 130 billion rubles.
The exposition of «Oboronlogistics» LLC was represented in the pavilion of AO Oboronstroy in conjunction with exhibitions of scientific organizations, enterprises of the military-industrial complex and consumers of products and services of military and dual purpose.
During the forum pavilion of «Oboronlogistics» LLC was visited by representatives of the organisations interested in cooperation, which had had the prior consultations about the possibility of providing transport services.