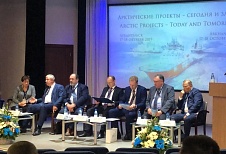 On October 17-18, 2019, Arkhangelsk hosts the seventh international forum Arctic projects-today and tomorrow, organized by the Association of suppliers of the oil and gas industry, the government of the Arkhangelsk region and the Northern (Arctic) Federal University.
The event includes sessions and round tables on topical issues related to the development of the North of Russia. The transport infrastructure is traditionally one of the key topics of the Forum. The management of Oboronlogistics takes part in the thematic session development of port and railway infrastructure of the Arctic regions and presents its decisions of organization and optimization of cargo logistics in Arctic.
Among the Forum participants are representatives of oil and gas corporations, transportation and logistics companies, operators of mineral deposits, shipbuilders, scientists and experts, employees of Federal and regional authorities, representatives of the Federal Ministry of transport, Ministry of industry and trade, Ministry for development of Russian Far East and the Arctic, the Ministry of energy and Ministry of economic development.
www.sozvezdye-forum.ru