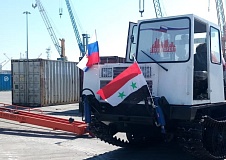 In October 2019, the first batch of machinery and engineering equipment (concrete mixers and excavators) from Russia was transferred to the Ministry of public works and housing construction of the Syrian Arab Republic.
The machinery was delivered by the ships of Oboronlogistics to the Syrian port of Tartus. It is planned to deliver 144 units of construction equipment. The next deliveries will be carried out gradually during the year.
The delivery of the equipment was the result of the active work of the Russian company and the Syrian construction Ministry aimed at the implementation of agreements in the sphere of trade, economic, scientific and technical cooperation between the two countries.
Currently Oboronlogistics carries out multimodal transportations in the framework of agreements with various commercial organizations interested in the supply of products and equipment for the economic recovery of Syria. Over the past year Oboronlogistics delivered to Syria a batch of cable products, as well as the drilling station and the concrete plant.