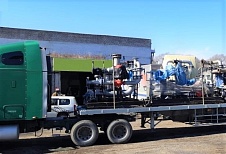 OBL-trans from the group of companies Oboronlogistics carried out the transportation of a batch of heat exchange points for the thermal power plant in the Far Eastern federal district.
Transportation was carried out with the involvement of specialized vehicles and with the use of crane operations. The impressive mass of heat exchangers required the development of individual fastening schemes.
The task was performed quickly, in a short time and without any complaints from the customer. The specialists of OBL-trans monitored loading and unloading operations and the transportation of oversized cargo on the whole route.
Oboronlogistics group of companies has been working in the structure of the Military construction complex of the Ministry of defense of the Russian Federation since 2015, providing accumulation, storage and transportation of goods, and also has great opportunities to fulfill orders in the commercial sector.