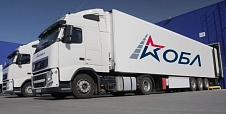 As a reliable partner, Oboronlogistics LLC extends a series of long-term state contracts in the framework of the state defense order with enterprises of the military-industrial complex of Russia.
In particular, Oboronlogistics extended the state contract with JSC Granit within the state defense order for delivery of the technical equipment to military units from the enterprise across Russia.
Transportation is carried out by trucks. The specialists the company lead control for unloading operations and the movement of cargo throughout its route.
Oboronlogistics works in the structure of the Military construction complex of the Ministry of defense of the Russian Federation since 2015, providing the accumulation, storage and transportation of goods.
In addition to the wide range of logistics tasks in the interests of the military Department, Oboronlogistics successfully works with such state customers as the Russian foreign Ministry, Rostec, Rosoboronexport, Roscosmos, and also cooperates with a number of large civil commercial organizations.