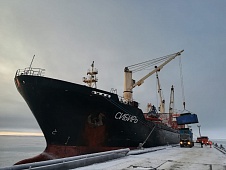 LLC Oboronlogistics opens a new sphere of activity acting as the supplier of construction materials and equipment for Military construction complex of the Ministry of Defence of Russian Federation.
In November 2019 Oboronlogistics delivered 10 000 tons of inert materials (sand and gravel) and provided transportation of special equipment (dump trucks, excavators and bulldozers) to the Novaya Zemlya archipelago for the construction of roads and military facilities.
The route from Murmansk to Novaya Zemlya was carried out by a ship chartered by Oboronlogistics at the end of navigation in almost ice conditions. All cargo operations were carried out 24 hours in the shortest possible time.
LLC Oboronlogistics works in structure of Military construction complex of the Russian defence ministry since 2015, providing accumulation, storage and delivery of freights of various departments, and also is the only supplier of transport services for the Ministry of defence of Russia in the Arctic zone and the far East region of the Russian Federation.