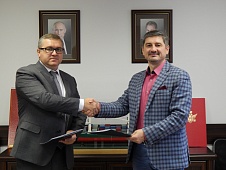 Oboronlogistics and Agency of development of truism and coastal territories «Big Arctic Race» (BAR) signed the agreement on cooperation in implementation of the long-term social and cultural project Big Arctic Race (www.bigarcticrace.ru), involving the development of civil use of the waters of the Northern seas of Russia.
Big Arctic Race is a non-profit project involving an annual competition of crews of small sailing vessels in Murmansk region and the Nenets Autonomous district, and then in other Arctic regions of Russia. The project is aimed at development of civil use of the northern sea, coastal areas of Russia and water tourism.
As a result of the signing the participants discussed the organization of the work of the regatta headquarters on the basis of the Oboronlogistics Situational logistics center (SLC) and its technical capabilities.
The Situational logistics center uses a unique software that has a significant potential for development. Real-time information about the weather, ice conditions, traffic is monitored at each stage of the movement of participants of the regatta.
In the future BAR will provide an opportunity to develop a small-scale civil fleet, modern technologies of materials, functional nutrition, water recreation infrastructure, etc. During the BAR, it is also expected to carry out refinements of coastal maps, scientific research, cultural and business events aimed at the promotion and spatial development of the Arctic territories of Russia.
The project is supported by the Ministry of natural resources of the Russian Federation and, the Strategic partnership "North-West", the yacht community, the publishing house "Komsomolskaya Pravda", "REGNUM" Information agency and other structures. The BAR organizing Committee was established under the Government of Murmansk region.