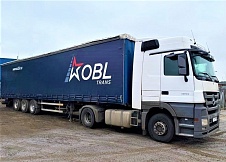 New trucks with the group of companies' logo started to perform transportation at the request of the company's customers.
The advantages of the Oboronligistics fleet of trucks are the efficiency of delivery, the ability to transport general cargo of various types, including special equipment, medicines, perishable products and other goods that require special storage and transportation conditions.
In addition to the transportation of military goods and military products in the interests of the Ministry of defense of Russia, subordinate organizations and enterprises of the military construction complex, LLC Oboronligistics performs transport and logistics projects, including warehouse and multimodal on a commercial basis.
Oboronligistics works successfully with government clients such as Rosgvardiya, Rostex, Rosoboronexport, Roscosmos, as well as a large number of civilian commercial organizations.