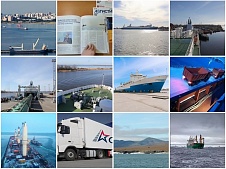 On the eve of the New Year holidays LLC Oboronlogistics, as usual, sums up the results of the outgoing year. Management system has been improved, profitability has been increased, and the geography of transportation and services has been expanded. According to the results of 2019, the authorized capital of the company increased to more than 9 billion rubles.
In 2019, the volume of cargo delivered to the Arctic has increased significantly. If in 2018 Oboronlogistics delivered more than 11,000 tons of cargo, in the navigation of the current year, 13 flights were made to points in the Arctic and transported more than 40,000 tons of various military cargo, military equipment, as well as cargo of the Military construction complex of the Russian defense Ministry.
In 2019, the company continued to modernize its own fleet and started regular commercial transportation in the direction of Tartus. Oboronlogistics has updated its cargo fleet and received a special permit for the transport of dangerous goods in accordance with the European agreement on the international carriage of dangerous goods by road (ADR).
In August 2019, between Oboronlogistics and Ilyushin Aviation complex has been signed an agreement of intent regarding the possibility of supplying five IL-114-300 aircraft to Oboronlogistics LLC. In 2019, Oboronlogistics LLC extended a series of long-term state contracts under the state defense order with enterprises of the military-industrial complex.