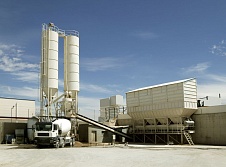 Joint-stock company "1470 Department of logistics", part of Oboronlogistics LLC, in 2019 improved the work of separate divisions, expanded the scope of services, carried out a number of planned and complex works on repair and improvement in the territory of branches.
In 2019 continued the implementation of the program of technological re-equipment of the separate division "350 Plant of reinforced concrete products" in Vladivostok. The "SmartBeton 40" concrete mixing plant has been installed with a capacity of 40 m3 / hour. Commissioning works are underway.
As part of the development of the logistics component, JSC "1470 Department of logistics" has developed a program for creating a container terminal "Dry port" on the territory of the separate division "350 concrete goods Plant" in Vladivostok. The implementation of this program will allow for intermodal transport using railway, sea and road transport.
In order to fulfill the state defense order in 2019, JSC "1470 Department of logistics" completed work on equipping several construction sites of the Ministry of defense of the Russian Federation with furniture and inventory in the southern military district (Krasnodar region) and the Western military district (Moscow region).
The main activities of JSC "1470 Department of logistics " – providing a full range of services in safekeeping and handling of cargo (including loading-unloading, cross-docking, order picking and shipping teams cars, containers, road trains, sending heavy and oversized cargo, special equipment on railway platforms), the delivery from the warehouses processed and packaged goods to the final consumer, and the manufacture of furniture and concrete products. JSC "1470 Department of logistics" owns warehouse complexes and port terminals throughout Russia.