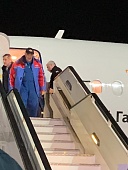 OBL-SERVICE LLC (a subsidiary of Oboronlogistics LLC) provided ground service in Moscow air hub for special flights of JSC Kosmos to the Republic of Kazakhstan to meet and deliver Russian cosmonaut to Moscow.
On February 6, cosmonaut Alexander Skvortsov (Roscosmos), astronauts Christina cook (NASA) and Luca Parmitano (European space Agency) returned to Earth on the Soyuz MS-13 manned spacecraft.
An operational group of the state Corporation Roscosmos and the Gagarin Federal state research Institute went to the landing area on a special flight. After a short adaptation, the crew commander of the Soyuz MS-13 Alexander Skvortsov arrived in Moscow.
At the Moscow airport cosmonaut was met by relatives, colleagues, the management of the state Corporation Roscosmos, the cosmonaut training Center, representatives of other industry enterprises and the media.
The tasks of OBL-SERVICE included airport and ground support of flights, organization of basic aircraft maintenance, and ensuring aviation security.
LLC "OBL-SERVICE" has extensive experience in performing air transport in Russia and abroad and provides a full range of transport support services.