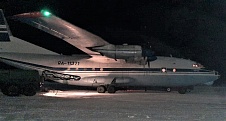 LLC OBL-SERVICE (a subsidiary of LLC Oboronlogistics) organized the next delivery of food and consumer goods for the residents of the settlement Belushya Guba on the archipelago Novaya Zemlya.
During two flights on the route "Arkhangelsk – Novaya Zemlya – Arkhangelsk" cargo aircraft An-12 delivered 35 tons of cargo.
Air transportation and unloading of cargo on Novaya Zemlya were carried out in difficult weather conditions (strong wind and snowfall). At the Rogachevo airport, the maximum number of airfield equipment was used for snow removal and runway preparation. Due to the snow drifts, KAMAZ trucks with cargo overcame the road from the airfield to the settlement of Belushya Guba accompanied by crawler tractors.
Air traffic between Arkhangelsk and Novaya Zemlya was opened by Oboronlogistics in October 2017 and is an important link in increasing the transport accessibility of the Novaya Zemlya archipelago for military personnel, their families and specialists engaged in the development of the Arctic zone of the Russian Federation.