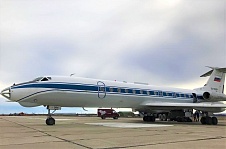 Aircraft Tu-134 returned to the route Arkhangelsk-Novaya Zemlya-Arkhangelsk after maintenance work to extend engine resources. These routine operations are mandatory and performed with a certain regularity for each type of aircraft.
Charter flights from Arkhangelsk to Novaya Zemlya archipelago operated by Oboronlogistika LLC three times a week since October 2017. Initially the flights were carried out on aircraft An-24/26. Aircraft Tu-134 has been used on this route since July 2019, which has significantly improved the quality of passenger service and reduced the flight time to 1 hour and 30 minutes. In addition, the capabilities of the Tu-134 allow additional loading of up to 5 tons of food for the inhabitants of the Novaya Zemlya archipelago.
Flights between Arkhangelsk and the New Earth organized by LLC Oboronlogistics focused on the task of increasing the transport accessibility of the archipelago of Novaya Zemlya for the specialists and their families involved in the development of the Arctic zone of the Russian Federation.