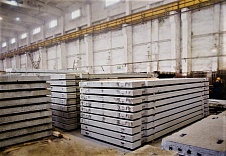 Joint-stock company 1470 Department of logistic", part of Oboronlogistics group of companies, continues to implement the program of technological re-equipment of the separate division 350 Reinforced concrete products factory in Vladivostok.
Thanks to the renovation program and signed supply agreements, the plant increased the production of airfield slabs by 11% in February 2020.
350 Reinforced concrete products factory in Vladivostok was built in 1952. The plant's products have a wide range of applications in civil engineering and energy in the Russian Far East.
The company participated in the construction of residential neighborhoods, as well as the implementation of government programs for the construction of a network of airfields and naval bases in the Pacific fleet, various facilities in Magadan, Anadyr, Kamchatka, Sovetskaya Gavor, Sakhalin, the Kuril Islands, Khabarovsk, and Primorsky Krai.
Today, the main production of the plant is focused on airfield slabs, city road pavement, wall blocks, ribbon foundation, rings and slabs of observation wells, piles, light supports, curbs, staircases, steps, etc. The factory also manufactures products according to individual projects and provides auto services (long meters, concrete mixers, manipulators).
Production and logistics company JSC 1470 Department of logistics provides a full range of services for responsible storage and handling of goods (including unloading and loading operations, cross-docking, picking up orders and sending goods by prefabricated cars, containers, road trains, sending heavy and oversized cargo, special equipment on railway platforms), delivery from warehouses of processed and packaged goods to the end user, as well as the production of furniture and reinforced concrete products. JSC 1470 UMTO owns warehouse complexes and port terminals throughout Russia.