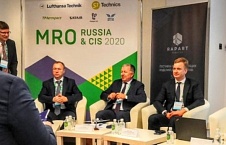 Oboronlogistics took part in the meeting of the consultative council "Il-114-300 launch customer package", organized by PJSC Aviation complex S. V. Ilyushina at the 15th international exhibition MRO Russia & CIS at the World trade Center in Moscow.
During the meeting, potential customers of the Il-114-300 turboprop passenger aircraft discussed with the manufacturer the requirements for the technical characteristics of the model: flight range, basing requirements, service intensity, layout, functionality and other aspects.
In 2019, Oboronlogistics LLC and PJSC Aviation complex S. V. Ilyushina signed an Agreement on the intention to discuss the terms of a preliminary contract for the delivery of five Il-114-300 aircraft to Oboronlogistics LLC by the end of 2022.
Oboronlogistics focus on creating their own fleet of passenger and cargo aircraft. In this regard, the company is interested in aircraft that have technical characteristics that will allow flights to deliver passengers and cargo to insufficiently prepared, unequipped and non-certified airfields in the Arctic zone of Russian Federation.
The meeting of the council was also attended by representatives of JSC Yakutia, JSC Polar airlines, JSC KrasAvia, LLC Natspromleasing and other Russian companies. MRO Russia & CIS exhibition is the largest event in Russia and the CIS countries dedicated to topical issues of aircraft maintenance and repair development.