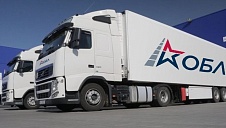 On the eve of events dedicated to the celebration of the 75th anniversary of Victory in the great Patriotic war, Oboronlogistics LLC transported eight 37-mm anti-aircraft guns of the 1939 model. Guns of the great Patriotic war were delivered from a warehouse in Zabaikalskiy kray to the military-Patriotic Park of culture and recreation of the Armed Forces of the Russian Federation "Patriot" in the Moscow region.
The task was completed in a short time. The transport covered 6,500 km in two weeks. Transportation was carried out by four specialized means of transport with the use of individual attachment patterns. Specialists of the Oboronlogistics were monitored during loading and unloading operations and the transportation of cargo on the whole route.
The advantages of Oboronlogistics road transport are the speed of delivery, the ability to transport General cargo of various types, including special and oversized equipment, perishable products, medicines, and other goods that require special storage and transportation conditions.
In addition to transporting military cargo and military products in the interests of the Ministry of defense of Russia, subordinate organizations and enterprises of the Military construction complex, LLC Oboronlogistics performs transport and logistics projects, including warehouse and multimodal.
Oboronlogistics group companies successfully work with such state customers as Rosgvardiya, rostec state Corporation, Rosoboronexport JSC, Roscosmos state Corporation, as well as with a large number of civil commercial organizations.